July 20, 2020
Bai Kamara Jr.'s new album Salone, which was released earlier this year under the project name Bai Kamara Jr. & The Voodoo Sniffers, has been nominated for a Blues Blast Music Award in the category 'Best Acoustic Blues Album'.
Online voting is open and available to anyone until September 5, 2020.
Fans can support Bai Kamara Jr. by casting their vote HERE.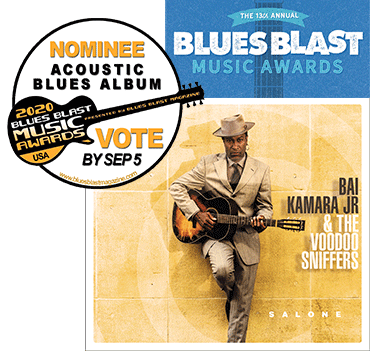 The nomination for this prestigious Blues award is an honour and a great achievement for Bai, the only nominee from outside of North America across all categories of this year's competition. It is also a beautiful sign of international recognition of this particular blues album, which marks a new stage in Kamara Jr.'s career.
The 13th annual Blues Blast Music Awards are presented by the US-based Blues Blast Magazine, the largest free weekly internet Blues magazine with over 38,000 Blues fan subscribers located in more than 90 countries. Their results are the largest award series where Blues fans from all over the world vote to honour the Best in contemporary Blues music.