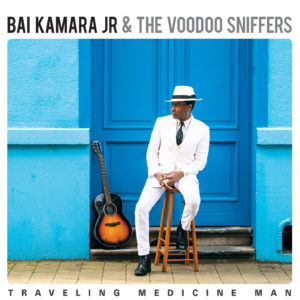 Three years after the release of his critically acclaimed album Salone, Bai Kamara Jr returns with Traveling Medicine Man, a 13 track collection of afro-blues songs portrayed in Bai's unique style. In a descriptive,
provocative and sometimes suggestive way, the tales of love, life, relationships and politics are meticulously explored by the raconteur.
"Traveling Medicine Man is the continuation of my introspective journey through my roots and my perpetual quest to make my two homes, Africa and Europe, coexist within me. The title was inspired by my maternal grandfather Tinka Tanner Kargbo, born in 1901 in the Northern Province of Sierra Leone. He was educated by Protestant missionaries and later traveled with them across the country to help provide medical care to villagers and townspeople. I was fortunate enough to have spent some time with my grandfather when I was still a child, and one of the things that fascinated me the most about him was his ability to reconcile his Christian beliefs with his traditional African beliefs and customs."
– Bai Kamara Jr
For the making of this album Bai brought his touring band, The Voodoo Sniffers, into the studio; these exceptional musicians contributed to Bai's unique and evolving sound. With a percussive nature at the heart of the arrangements this rootsy blues is spiced up with an afro vibe, making you want to get up and dance more often than not.
🎧 Listen here :  https://bkj.bfan.link/traveling-medicine-man